Facebook Running Narrative – Part 2
In addition to writing this blog, I also post a steady stream of comments and photos on Facebook.  Since my Facebook posts are visible only to my family and friends, I've replicated them here for all to enjoy.  You can read Part 1 here, which chronicles the start of our trip January 26 through June 9.  The following posts are listed in chronological order from June 10 through September 30.  They provide a nice running narrative of our trip.
When there's 22 hours of daylight, there's no longer a need to rush.
We climbed a thigh-burning 1000 feet in a half mile for an incredible view of the turquoise glacier-fed Muncho Lake in British Columbia. Canadians don't seem to like switchbacks… the trails go straight up!
The campground wifi doesn't quite reach our RV, so I'm sitting outside at a picnic table near the office, at midnight and still quite bright out, fighting off mosquitoes the size of small birds.
Heading to Kluane National Park in Yukon, our final stop before Alaska. Pronounced kloo-WAH-nee, it's home to massive glaciers and ice fields and the second highest mountain in North America.
Ironic that the warmest place we've been in a month is North Pole, Alaska
We just pulled off the Alaska Highway and camped for free for 3 days along Kluane Lake, the largest lake in Yukon. This was the view out our RV window. Shadow spent 5 minutes investigating what turned out to be a very menacing piece of driftwood.
Back in the USA! Canada was beautiful, but it feels great to be back in America. Now we're in Fairbanks, Alaska for the summer solstice celebrations. 22 hours of daylight + 2 hours of twilight = 2 messed up biological clocks. 😉
Got a foul ball about 5 minutes to midnight at the Midnight Sun Baseball Game in Fairbanks!
Alaska has some of the warmest weather on our trip. But that'll change next week when temps drop into the 40s with snow expected in the mountains.
Our bus in Denali National Park stopped to watch this impressive grizzly bear feeding nearby. All of a sudden, the bear noticed two hikers walking along the road, stood up on its hind legs as shown, then started running toward them. Fortunately the hikers escaped to safety on a bus ahead of us.
Mmm double roasted marshmallows. Brown the outside, slide it off and eat it, then brown the gooey inside.
Will be interesting to see how they do 4th of July fireworks in Alaska since it doesn't get dark.
In Wasilla, no sign of Sarah
Summers in Alaska are short but intense. It was a bit unnerving to hike through this fern forest which swallowed the trail and us along with it.
We've been on the road 5 months and just crossed the midpoint of our planned 10-month trip. Coincidentally, we were at the northernmost location on our trip (near Fairbanks, Alaska) on the midpoint day and have been heading back south ever since. If you get a chance, please check out our updated trip map that shows all the parks we've visited so far. http://tntrv.com/map.html
Heading into the Kenai (kee nigh) Peninsula, also known as Alaska's playground. Hoping to see Mt Redoubt, the volcano that erupted last year.
Great bumper sticker:
Warning! Driver has only $20 (worth of aummunition)
Went hiking in the Kenai National Wildlife Refuge yesterday. Almost every group we passed was carrying a shotgun for grizzlies. Felt a little inadequate with my can of bear spray 😉
Camping on the Cook Inlet as it opens to the Pacific Ocean between the Kenai Peninsula and Aleutian Islands. Never seen so many bald eagles in my life. What a majestic bird, an apt symbol for our great nation.
Today we're visiting Homer, the counter-culture capital of Alaska. Black turtleneck–check. Beatnik shades–check.
What global warming? High of 54 degrees and we got caught in a brief snowstorm.
The volcano Mt. Redoubt last erupted in 2009, covering Anchorage with a blanket of ash. Its 1989 eruption caught a 747 in its plume (the jet landed safely). While photographing this beauty, which is 56 miles away across the Cook Inlet, I was fantasizing that the ground would start to rumble then !BOOM! the top would blow off. That's when Theresa reminded me that Mt. St. Helens killed a dozens of people who were 50 miles away. OK, so now I'm hoping for just a minor eruption. 😉
Standing next to the Exit Glacier, tip of the Harding Ice Field, largest in the United States at over 300,000 acres and 3,000 feet thick. If it stops raining today, we hope to climb above the ice field.
Why do grilled cheese sandwiches taste better when they're cut diagonally?
The coldest winter I ever spent was the summer in Alaska
"If you don't like the weather in Alaska, just wait 15 minutes… It'll get worse." ~Alaska State Ranger
We climbed up above the Harding Ice Field today, a remnant of the last ice age, over a half-mile thick of ice. We saw some people climbing along the deep crevasses.
Silly Marmot, tricks are for kids
Billy Goat Gruff
This one is for you, T.j. Perez. A humpback whale in Prince William Sound.
Alaska is like a supermodel wearing a hoodie. After two weeks of clouds and rain, she pulled back her hood to reveal her spectacular beauty. Here is Theresa, Darby and Shadow in the Chugach Mountains.
That's the Raven Glacier in the background
There's nothing boring about a bore tide. Saw our first bore tide, about 4 feet tall, cool sound, wiped out 4 people attempting to surf it. @Turnagain Arm southeast of Anchorage
A little 3-year-old boy disappeared from our campground. Theresa watched their other 2 kids while we all searched the forest. It ended well, as the mother said, "When my husband found him… after he lost him."
We were hiking in the forest when out of the brush came this 7-foot beast heading toward us. He wanted our trail, and we gladly gave it to him, putting a tree between us and him. Moose can be very aggressive toward dogs, and somehow our dogs sensed this because they kept quiet as he passed by.
I hate mail day (when we receive our forwarded mail). Today we had three big headaches to deal with, all due to service people simply not doing their jobs.
I love bacon, but I'm not so sure about Burger King's new bacon sundae: hot fudge & caramel on vanilla soft serve with a strip of bacon and covered with bacon bits.
Prometheus was a head-trippy sci-fi thriller with surprisingly many religious overtones. But what was really unnerving was the theater staff checking the side doors every half hour.  [This was shortly after the theater mass shooting in Denver]
The mosquitoes in Alaska seem to have abated for the year
Stocked up at the last Walmart for 700 miles
From the movie Prometheus…
Robot: Why did your people make me?
Human: Because we could.
Robot: And how would you feel if your makers said the same to you?
At night here in Alaska it's finally getting about as dark as it would be back home with a full moon. We had to turn on a light at midnight to read something in the RV for the first time since mid-May. I'm going to miss the endless daylight.
Flightseeing Mt. McKinley tomorrow, landing on a glacier at base camp, looks like good weather
Landed on a glacier below Mt. McKinley at 5,500′ in Denali National Park
We flew over the amazing Ruth Glacier in Denali National Park and its "Great Gorge" bounded by 1-mile high granite cliffs.
Caught a cold 🙁
Last day in Alaska, we had a wonderful time here. Heading back to Canada tomorrow, the Yukon and western British Columbia. Should be back in the lower 48 by mid-August.
Expendables 2 looks like a gas. Schwarzenegger, Willis, Stallone, and this time Chuck Norris and Jean Claude Van Damme.
Back in Canada eh! Where the mountains are beautiful, people are friendly, and prices are outrageous e.g. gas @ $5.50/gal.
I'm so used to the RV spit showers that a real campground shower makes me feel like royalty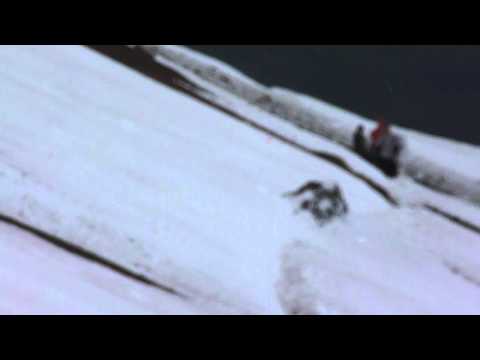 We were hiking on the Harding Ice Fields Trail in Kenai Fjords National Park when we heard a loud CRACK! I started filming when I saw an oven-sized boulder rolling down the hill. We yelled "Falling Rock" and "Look out" to a group of 4 hikers behind us approaching the boulder's path. The boulder stopped rolling just in front of them. Notice the look of relief on one hiker's face. They yelled "Thank you!" afterward.
We were having lunch at a rest stop in British Columbia when we heard "SCREEEEECCCHHH." We looked out the window to see a large RV towing a car whose tires were smoking. They stopped about 100 feet later. Turns out they left their tow car in Park.
5 straight days of driving 1600 miles through Canada because we have to return to the US by Aug 15 so Theresa can fly home and close on our house sale. Now we get to relax and hike for a few days at Garibaldi Provincial Park. After going 6 months with no set schedule, I've come to realize that deadlines suck 😉
We've been Alaska-ized. These low 70s temperatures in southern British Columbia feel downright balmy!
Did our longest hike of the trip yesterday: 14 miles, 3600′ elevation gain. Feet aching a bit today.
Last day in Canada, hot & hazy day, going to see a 1000-foot waterfall and the 2nd largest granite monolith in the world.
Back in the lower 48!
On the park brochure: "The U.S. Navy conducts numerous fighter jet drills at all hours of the day. Washington State Parks cannot be responsible for this significant intrusion on your camping experience."
Seattle has the best radio in the country: 5 real rock stations, plus 2 more classic rock stations
Wrangell-St. Elias in Alaska is the largest national park in the USA with 13 million acres protected. It was the quietest place we've ever visited, where we could hear only the wind rustling, birds chirping, bees buzzing, and our own hearts beating.
We saw this cute black bear in Chugach National Forest, Alaska. He was about 2-3 years old, still a bit juvenile in his walk and playful mannerisms. We watched him for about 10 minutes across a gorge (so he didn't notice us, and we weren't in danger) until he disappeared into the trees. Our current count: 30 black bears and 8 grizzlies.
The stupidest thing I've heard on our trip, from a guy talking to us in an Anchorage movie theater, in front of his teen son: "The American crocodile is at the top of the list of things I want to kill before I die."
Apparently the real estate gods don't want us to sell our house.
Theresa is dining al fresco in Alaska with a great view of the Knik Glacier
We lose TV reception every time a jet flies overhead (which is often, because I'm camping near the Seattle airport). What's up with that?
Met a couple who have a massive 45-foot-long $900,000 motorhome. It has two bedrooms, full-sized bathroom, full-sized refrigerator/freezer, 3 flat screen TVs, and a front door that opens with a push of a button. They've retired at age 50, sold their house, and plan to live on the road full-time. Doing it in style.
Darby loves to inspect the BBQ grill at each campsite
Sea otters float on their backs and pray for fish 😉
Woohoo, we've cleared the final hurdle and will hopefully close on the house Monday!
Yay, Theresa is back, and we'll be resuming our adventure. Still didn't close on the house, but it's still possible within a week.
Expendables 2 was great! It was fun to see all the old action heroes together.
Just saw a jumbo jet getting a wingtip fighter jet escort into the Seattle airport
Timm on top of the Seattle Space Needle. Sunny, clear day made for great views. Really neat city, fun arty downtown with lots to do and see. [Theresa posted this on my Facebook wall]
The buyer's VA loan officer made a mistake and now there's one more water test. In spite his prior assurance that we were good to go. He agreed to pay for this one, but closing has been pushed back yet again.
Theresa standing below the Space Needle in downtown Seattle
Mmm, fresh blackberries right at the campsite. Much sweeter than in Kentucky. Our dog Shadow is eating them right off the bush.
Heading into Olympic National Park. Rare for the Pacific Northwest: a perfectly clear day!
Undeveloped land in the remote Kentucky mountains sells for about $1000/acre. Undeveloped land with this view of Lake Cushman in the Olympic Mountains in Washington state sells for $100,000/acre. Location, location, location!
One hour to closing time. Let's see what else can go wrong. 😉 My mom says our house just doesn't want to let us go.
Woo hoo, we've closed on the house! We are officially houseless!
This may be my favorite T-shirt ever
The mighty Mount Olympus, tallest peak in the Olympic Mountains and covered with 6 glaciers.
Nights already dropping down into the 40s brrr. I'm not yet ready for fall.
Never seen so many butterflies, flittering in the trees like snowflakes carried by the wind
The campground went from completely full to almost empty in just 3 hours. Now starts my favorite time of the year to travel, when the crowds are gone and the weather is good.
The Dairy Queen turtle sundae in a chocolate-dipped waffle bowl is sooo yummy!
A group of seals in the harbor at Port Angeles, Washington
OK all you Twihards, guess where we were today… Forks and La Push! No sign of Edward or Jacob.
Theresa found a nice axe left in a campsite!
Tomorrow is the 80th Birthday of my mom Hazel Martin. She is the most wonderful mother a son could hope for. Happy Birthday, Mom!
I've been waiting for this day for a few years. I spread some of my Dad's ashes in the Pacific Ocean in Olympic National Park. He loved the sea and the sun and would've loved this beautiful place.
Is it just me, or are slugs some of the coolest creatures ever?  [One reply: "It just you."]
I am humbled in the presence of these gentle giants. These cedars are 300 feet tall, 30 feet around at the base, and 500 years old.
I love all these basic math questions posted here on Facebook that test order of operations. I can't help but laugh when people emphatically claim that 1+2×3=9. They must have been sleeping through fourth grade.
GoDaddy is down, along with the millions of websites it hosts, including mine. A member of Anonymous claims responsibility. Call me collateral damage.
Heading to Mt Rainier for a few days and then to Mt St Helens
You have to love the mountains to want to live in the mountains. Already dropping to freezing at night.
Mt. Rainier, considered the most dangerous active volcano in the USA, but just quiet and pretty today
We're camping in the "Red Zone" beneath Mt. St. Helens for the next couple days. If we had been here on May 18, 1980, we would've survived the eruption because it was a lateral blast to the north. All fatalities were in the blown down and avalanche areas north of the caldera (where we were hiking yesterday), and we're camping 5 miles to the south. However, we would've been covered with over a foot of ash. Odd fact: people within a 60 mile "zone of silence" of the volcano didn't hear the blast, yet the explosion was heard over 600 miles away.
"Take nothing but pictures, leave nothing but footprints, kill nothing but time." ~Sign at Mt. St. Helens National Monument
Had to come down out of the mountain today to Portland. We're out of everything… food, water, gas, clean clothes, tank space. Always get civilization shock.
After spending this year in the sun, I went to the skin doctor to check out some spots on my arm. He said, "Welcome to old age. Those are normal age spots." I was both relieved and disappointed at the same time.
The customer is not always right; sometimes he is an idiot.
A fogged-in ocean might as well be a backyard pond
In the Columbia River Gorge where there are 77 waterfalls, though we'll be lucky to see a dozen today
The Columbia River Gorge is beautiful with its sheer cliffs, wide river, and many waterfalls. The downside is that I-84 and a busy railroad runs through the center of it, so traffic noise is loud and constant.
Multnomah Falls, second highest year-round waterfall in the United States (after Yosemite Falls)
Darby and Shadow merge to create one super dog!
Heading to Mt. Hood volcano
Mt Hood behind the Timberline Lodge, where they filmed the exterior shots for "The Shining"
Perhaps our most amazing dispersed campsite ever. Our view of Mt Hood from our breakfast table in the RV. Yesterday we hiked up to that glacier on the right side of the mountain.
There are plenty of legitimate criticisms about both Obama and Romney, it's a shame people have to make up lies. I receive at least one bogus mass email per day, forwarded to me by otherwise smart people who mistakenly assume if it's in an email, then it must be true. I wish people would check snopes.com or factcheck.org before perpetuating this nonsense.
Why does our CO/propane alarm go off when our dogs pass gas? I thought that was methane. 😉
While driving on a remote forest road, 3 deer ran across the road faster than we've ever seen before. Theresa said, "Wow, something must be chasing them." Sure enough a second later a coyote zipped by.
Oregon is very pretty, reminds me of Kentucky with the green rolling hills, except Oregon has more evergreens. Oh, and massive volcanoes.
It feels good to help someone who is lost. Helped a woman who got lost in the campground after it got dark on her walk.
Going to climb Black Butte, an extinct cinder cone
This Oregon weather is perfect! Sunny and 70s every day since we got here and in the 10-day forecast.
Went for a long midnight walk with the dogs under a full moon in Deschutes National Forest. Had to leave a branch in the road to find my road back home.
Spent a couple hours looking online at land for sale in Oregon. Just looking tho 😉
RV generator died 🙁 Basic troubleshooting didn't work, so we need to find a repair shop.
McLovin!