Bald Eagles at Anchor Point, Alaska
Anchor Point is a small community on the southwest side of the Kenai Peninsula in Alaska.  It's famous for its flocks of majestic bald eagles.
Anchor Point is also famous for being the westernmost point in the North American highway system, in other words, the farthest west you can drive your car in North America without transporting your car by ferry or plane.  The name Anchor Point comes from a legend that when Captain James Cook discovered the area, he lost an anchor.  Settlers came beginning in the early 1900s, and in 2000 there were 1,845 residents.
Anchor Point is also a major boat launching spot onto the Cook Inlet, a large body of water that stretches 180 miles from the Gulf of Alaska north to Anchorage and averages about 40 miles wide.  Because the tides there are extreme, tractors are used to carry boats out into the water.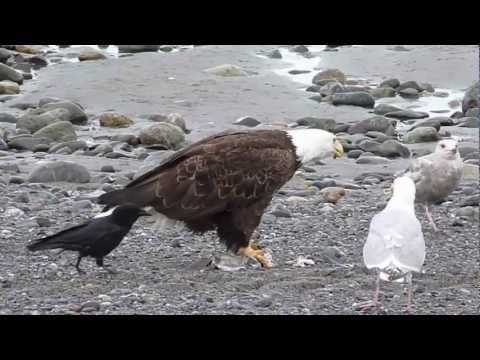 Because so many fishing boats are launched here, there is a lot of dead fish on the beach, which attracts seagulls and bald eagles by the hundreds.  We saw more bald eagles in the first 10 seconds here than we have previously in our entire life combined.
The eagles had first dibs on all the best fish.  The seagulls and crows stood to the side to scrounge whatever scraps they could.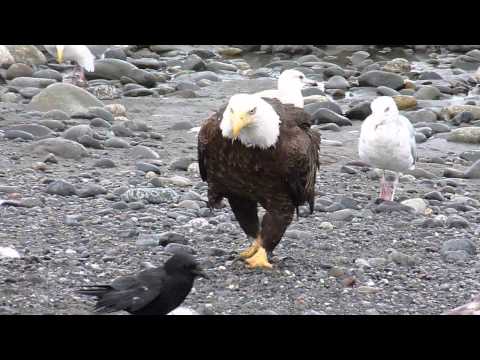 Bald eagles are every bit as majestic and intimidating in person as their reputation on film.  This video shows an eagle walking like a tough guy back to his meal that he abandoned when a tractor drove by.  The seagulls immediately swooped in to munch on the eagle's fish, but they flew away as soon as the eagle returned.