Monthly Archives:
January 2013
2012 was a great year for the four us—Theresa & me, and our dogs Darby & Shadow.  We saw more amazing natural features in a year than most people see in a lifetime.  But we realized that tough times would come in the future.  It's inevitable as we age and life goes on.
Unfortunately those tough times came a little sooner than we expected.  Our beloved dog Shadow is blind. 
Shadow has been diagnosed with SARDS–Sudden Acquired Retinal Degeneration Syndrome.  SARDS is a disease in dogs that causes sudden and permanent blindness.  It's an idiopathic disease, meaning that it arises spontaneously from obscure or unknown reasons.  Possible causes include autoimmune disease, toxins, elevations in adrenal sex hormones, and other disease.  SARDS destroys the eye's retina, which cannot regenerate, and there is no known treatment.
This came on rather suddenly.  I first noticed the symptoms Saturday when Shadow had trouble catching treats that I tossed to him.  He wasn't the world's best catch before that, so I wasn't alarmed, but something seemed amiss.  On Sunday, Shadow had trouble finding treats placed on the floor in front of him.  By this morning (Monday) Shadow wasn't able to see treats I held right in front of his face, so of course I took him to the vet.  The doctor confirmed that Shadow is losing his eyesight and will be completely blind within days.
When we returned home after receiving the bad news from the vet, I took Darby and Shadow for a hike, figuring it would be one of our last hikes when Shadow could run around off the leash.  Of course I hiked along wide trails and avoided any cliffs.  Shadow's near-eyesight is gone, but he seems to have enough far-sight to distinguish the wide trail from the bushes along the edge.  Hence Shadow was a little cautious in his movements, but he did well and seemed to have fun.  That's the wondrous thing about dogs: every walk is grand event.
Darby seems to sense that something is wrong with her brother.  Instead of running off in the woods like she normally does, Darby stayed on the trail the entire way and back, which is very rare for her.  Shadow followed behind Darby and stayed pretty close to her much of the time.
When hiking on our adventure last year, Shadow was always the group leader out in front of the pack, followed by Darby, Theresa, and then me taking up the rear.  I've lost count how many times Shadow would fearlessly walk right up to the edge a steep cliff, look all around and survey the land below.  We often joked that the dogs weren't really enjoying the view beyond the squirrel six feet away. 
But in those moments when Shadow was laying peacefully on a cliff, one paw crossed over another and hanging off the edge of the abyss, I believe he truly appreciated the massive expanse of spectacular wilderness that stood before him.
(Shadow at cliff's edge in Makoshika State Park, Montana in May 2012)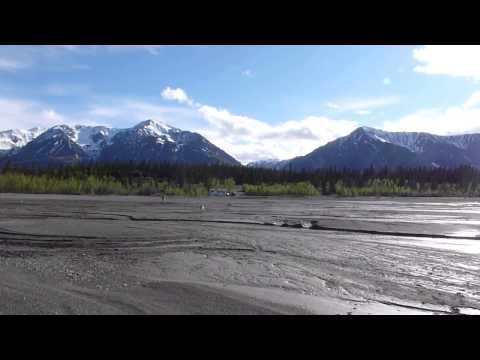 The dogs loved dispersed camping because it meant they could run free.  And it wouldn't take long before Darby would inevitably chase Shadow. 
This video shows our RV parked along the edge of beautiful Kluane Lake in Yukon, Canada.  The lake's water level was surprisingly low for early summer, and our RV was a quarter-mile from the water's edge.  When we returned by Kluane Lake in August, all of this sand–where we are standing and the dogs are running–was under water.
Kluane Lake is the largest lake in the Yukon, covering nearly 154 square miles or 100,000 acres.  We spent a lot of time walking along the lakeshore and hiking the Kluane Mountains that you see rising behind the RV in the video.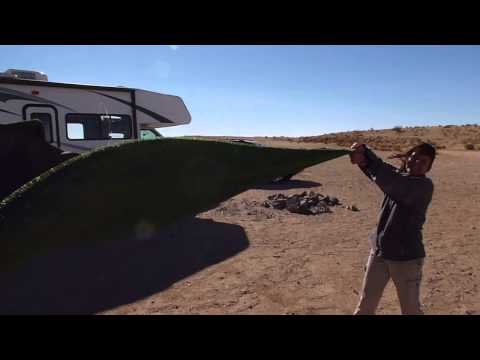 We knew we were back in the California desert when high winds started rocking our RV.  The next morning, shaking out the rug was an easy task, as all we had to do was hold on to the rug, and the wind did the rest.  Actually, it was quite a challenge just to hold on to the rug in the sustained 40+ mph winds.  This was in Dove Springs Recreation Area in south-central California.